Tears Stream Down Lisa's Face
Her name is Lisa, and right now she is sitting on your treatment table crying uncontrollably.
These are not tears of pain, but tears of joy that come from finding hope after many years of struggle and hopelessness. These are tears of gratitude, and they contain all the riches of the world.
Lisa stands and gives you the type of hug that lets you know that you just made a friend for life.
Later that day, when you're alone in your car driving home, tears of gratitude form in your own eyes. Sitting at a red light, your heart is full and content, and you feel blessed to be able to live the life that you have.
Trigger Point Therapy…In a Nutshell
The powerful experience that I just described is the reason that I am a trigger point therapist. If you have ever felt what it is like to truly help someone, to really make a positive change in their life, then you know what a profound and moving experience it is.
Now imagine if this experience was a regular part of your work week. How would that change your life?
We Need Trigger Point Therapists
The demand for well-trained trigger point therapists is truly incredible right now.
Over the past five years I have received thousands of emails and phone calls from people all over the world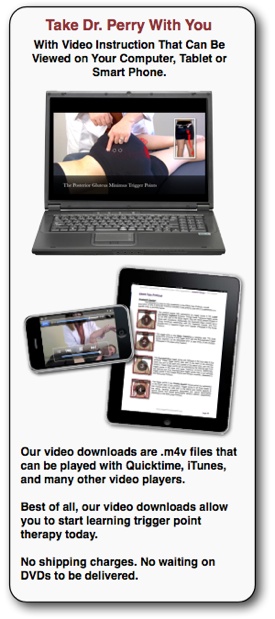 asking if I know of any trigger point therapists in their area. Ninety-nine percent of the time, I'm unable to offer any help to these suffering people.
Needless to say, I found this situation to be unbearable, so in 2008 my husband and I went on a mission to get these people the help they need.
Here's the Deal:
We want to help you become a successful, independent trigger point therapist so that you can help the people in your area that can't find help anywhere else.
To make this happen, we put in three years of hard work designing and producing a one-of-a-kind training course in trigger point therapy that will deliver remarkable and consistent results for you and your clients.
What makes our training course your best option for learning trigger point therapy? I'm glad you asked.
Instruction That's Available When and Where You Need It.
In teaching trigger point therapy over the years, we noticed that the therapists that really excelled were the ones that made it a habit to study and practice on their own, outside of class. So in designing this trigger point course, we wanted to give you the freedom of learning trigger point therapy wherever and whenever you want.
We bring our trigger point therapy classes to you, with video downloads that you can watch on your computer, iPhone, iPod Touch, or iPad today, so there is no need for you to juggle your schedule or travel to make a class. And if you are more comfortable learning from DVDs, we offer that option as well.
What's more, all our video instruction is organized into chapters and subsections so that you can easily access the information that you are looking for. So for example, if you have a shoulder pain client coming in and need to review the release technique for the infraspinatus trigger points, that information is just a few clicks away.
You Don't Just Learn Trigger Points…You Learn Proven Treatment Routines
While you will receive step-by-step instructions for recognizing, locating, and releasing over 90 trigger points in 40 muscle groups by taking this course, that is really only just the beginning.
Getting great results with trigger point therapy, the kind of results that generate an endless supply of word-of-mouth advertising for your services, requires you to recognize and address the "whole picture" of a client's myofascial pain complaint.
You see, trigger points almost never work alone. For every trigger point that you identify on a client, you can be sure that there are at least 2 or 3 more lurking in other muscle groups, just waiting to reactivate the trigger point that you release.
To achieve long-lasting results for your clients, you need treatment routines or protocols that address not only the obvious trigger points involved with a particular complaint, but also the secondary trigger points that arise from the biomechanical, postural, and pain referral factors at play.
The good news for you is that we have done all the hard work of developing trigger point therapy protocols for our practice already, and we will teach you our clinically proven protocols in this course.
So no matter where you are in your practice of trigger point therapy, we have made it possible for you to get expert-level results by following our simple step-by-step directions.
What You Get With This Trigger Point Course
Anatomy Review: A review of the anatomy and biomechanics for each of the 40 muscle groups covered in the course. For each muscle group, I'll walk you through the:
The relevant skeletal landmarks
The muscle's origin and insertion
The muscle's actions and functions
The muscle's synergists (other muscles that assist this muscle's functioning)
The muscle's antagonists (other muscles that oppose this muscle's functioning)
Trigger Point Essentials: For each of the 90 trigger points covered in this course, you will learn:
Where the trigger point refers pain in the body.
The symptoms and clinical findings associated with the trigger point.
The common factors that activated and reactivate the trigger point.
The precise, step-by-step directions for locating and releasing the trigger point.
What other trigger points are associated with the trigger point.
Treatment Protocols: The 10 trigger point therapy protocols taught in this course will enable you to effectively address a wide variety of myofascial pain disorders, including:
Tension headaches
Migraine headaches
Neck pain
Neck stiffness and Torticollis
Pain between the shoulder blades
TMJ disorders and toothaches
Dizziness and Vertigo
Shoulder pain and dysfunction
Frozen Shoulder Syndrome
Rotator Cuff Issues
Bicepital Tendonitis
Radiating arm pain and Thoracic Outlet Syndrome
Tennis Elbow or Lateral Epicondylitis
Golfer's Elbow or Medial Epicondylitis
Wrist pain
Carpal Tunnel Syndrome
Hand pain
Chest pain
Abdominal pain
Abdominal bloating, heartburn, gastrointestinal disorders
Pelvic pain, PMS cramping, dysmenorrhea symptoms
Hip pain and dysfunction
I.T. Band complaints
Groin pain
Genitalia pain
Low Back Pain
Sciatica and Side-sciatica symptoms
Gluteal pain
Hamstring pain and cramping
Knee pain, stuck patella, and buckling knee disorders
Shin splints
Calf pain and cramping
Ankle pain and weakness
Achilles Tendonitis & Heel Pain
Foot pain & Plantar Fasciitis
Additionally, you will learn the optimal sequence for releasing the trigger points in each protocol to achieve great results with the minimum effort required from you.
Everything You Need: Over 15 hours of professional video instruction that will teach you everything that you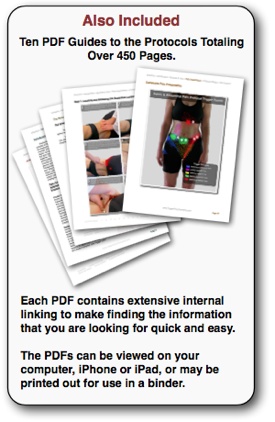 need to know to take your practice of trigger point therapy to the next level.

How Much Does It Cost?
To realize our dream of creating a worldwide network of trigger point therapists we knew we had to make our training as affordable as possible.
Until now, the only way to get the education and training that we are offering you in this course was to spend thousands of dollars traveling the country and taking trigger point courses here and there. Few people have the time or money to make this option work.
Hundreds of massage therapists, chiropractors, nurses, occupational therapists, physical therapists, and bodyworkers in our area have paid $1500.00 to learn the material in this course.
But, we are very proud to offer it to you now for the amazing price of just $499.99 ($599.99 for DVD Set).
You can pay off this investment with just 7 trigger point therapy clients. How often do you get an opportunity to launch a new and rewarding career without taking on a significant amount of debt for your education?
We have worked very hard to provide you with a trigger point course that cannot be matched in scope, practicality, or price. This is your opportunity to establish yourself in a rapidly growing and rewarding field of healthcare. Please take this offer seriously, as we will not be able to offer this course at such a discounted price forever.
It's All Up To You Now
We can show you the path to a unique and inspiring career, and we can walk the path with you, but we can't walk it for you.
It's up to you to discover that "making a living" can be so much more than just collecting a paycheck. It's up to you to discover that what brings your life meaning is not what you do for yourself, but what you do for others. It's up to you to discover the wonders of trigger point therapy by taking the first step and ordering this training course today.
Two Options For Purchasing The Clinical Trigger Point Therapy Course
You have two options for purchasing the Clinical Trigger Point Therapy Course, the video download course or the DVD course. Please choose the one that you prefer:
Option 1: Buy The Video Download Trigger Point Course for $499.99

With the video download course you can start learning trigger point therapy today. No shipping chargers or waiting on DVDs to be delivered. All the videos are DVD-quality (711 by 400 resolution) and can be viewed on your computer, laptop, tablet, or smart phone.
How To Download and Watch the Video Downloads :
After your purchase of the video download course, you will receive an email invoice containing the download links for the ten Protocol Videos and their PDF Guides
Some of these files are large (1.7 GB), so it's best to limit downloads to two at a time to avoid a possible server time-out.
Downloads may take up to 20 seconds to begin, so be sure to wait a minute before clicking on the link again.
Each download link is good for 5 downloads or download attempts, then you will receive a "Max Downloads" message. Please contact us for a fresh link if you were to reach this message before completing the download.
Once downloaded to your computer, the files must be unzipped.
If needed, you can use the free Adobe Reader to view the PDF Guides on your computer. They may also be added to iTunes and viewed in the iBooks app on the iPhone or iPad.
Video Formats: Upon purchase of the video download course, you will receive an email containing download links for all ten of the protocol videos in three different formats:
AVI format: Choose this format to download for watching the protocol videos on a PC computer.
MP4 format: Choose this format to download for watching the protocol videos on an Android or Windows device (phone or tablet).
M4V format: Choose this format to download for watching the protocol videos on a Mac computer. This format has been optimized for watching in iTunes, but Quicktime Player can also be used. You can use iTunes to sync this video to your iPhone, iPad, or iPod Touch, but you cannot directly download this format (or any other format) to your device. Apple does not allow videos outside of their iTunes Store to be directly downloaded and opened on their iPhone, iPad, or iPod Touch. Please use a third-party app such as GoodReader (available for purchase here) to open, unzip (unarchive), and store the video directly on your device. After downloading the video in Safari, click "Open In…" and choose GoodReader. You can also use GoodReader to open and unzip any PDF file that may be included with your purchase.
Click the "Add to Cart" button below to buy the Video Download Course now.
$499.99 $299 For a limited time get 40% off this course with our Summer Sale.
Offer is good for only the video download course. Discount will automatically be applied during checkout, after you enter your buyer information. Please note, you do not need a PayPal account to make this purchase, you can use a credit or debit card and checkout as a guest.
Option 2 : Buy the DVD Trigger Point Course for $599.99 + S&H
DVD Format: NTSC, DVD-R
U.S. Shipping & Handling Charges: $19.00 for Priority Mail 2-3 Day Delivery
International Shipping & Handling Chargers: $50.00 for Priority Mail 6-10 Day Delivery
 $599.99 + S&H  Temporarily Unavailable
Note: If you are not comfortable using PayPal we can take your credit card payment over the phone at our office. We can only accept U.S. credit cards and our office hours are Monday -Saturdays  9:00 am to 7pm CST. Feel free to leave a message at any time and we will get back with you as soon as possible. Our phone number is 713-962-4934.