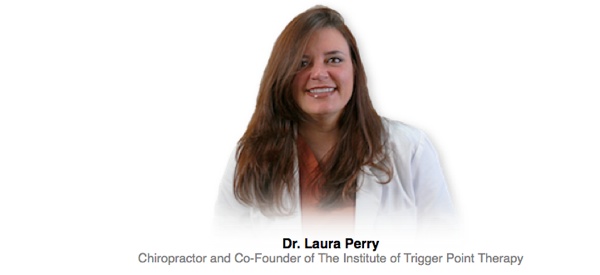 Hi, my name is Dr. Laura Perry and I'm on a mission to eliminate the physical pain that plagues millions of people each year. Obviously, this is no simple task and not something that I can do alone, which is why I am reaching out to you. You see, every day I get emails from people all over the world who are in physical pain and need help. I do my best to help them, but unless they live close enough to me for an office visit there is not much I can do for them. I find this situation extremely frustrating, so a few years ago my husband and I decided to do something about it.
The Dream of a Worldwide Network of Trigger Point Therapists
It's a simple dream really, we want well-trained trigger point therapy practitioners within the reach of the people who desperately need their services. We want to see successful, independent therapists in every country, city, town, and suburb. To make this dream a reality, we have focused our effort in providing four resources:
Information: People need to learn about trigger point therapy and recognize just how valuable this knowledge is to their lives. To meet this need, we created the website PainWhisperer.com several years ago, and more recently we established the trigger point therapy blog on this site.

Training:

Much of this site is dedicated to providing the most complete and advanced training in trigger point therapy that is available at a price that people can actually afford. Having taught trigger point therapy in our home town for years, we knew we needed to make our training program available to people worldwide. So after three years of hard work, we launched our self-study trigger point courses in early 2011. We also have a selection of Trigger Point DVD Titles that teach our treatment protocols for the common pain disorders, and a library of over 40 Trigger Point Video Downloads for those looking for instruction on releasing specific trigger points. And of course, we still offer our Trigger Point Therapy Classes for anyone that can make it to our office in Houston.

Referral Network:

As more people learn about trigger point therapy, the public needs a way to connect with therapists and practitioners in their local region. We are developing a search engine-friendly directory of trigger point therapy practitioners to make finding a therapist easy and convenient for the public.
We've put a great deal of work towards this dream so far, but we know this is just the beginning. If you share our passion for trigger point therapy, please join forces with us to make this highly effective pain-relief system available to everyone the world over.
Thank you,
Dr. Laura Perry
Jeff Geanangel