The Core Clinical Trigger Point Therapy Practice…at a discount
Jump-start your practice today with this Clinical Trigger Point Therapy – Essentials Course. This course includes the five primary trigger point therapy pain protocols that we employ daily in our private practice. With these protocols you can effectively address roughly 70% of all client complaints seen in a typical clinical practice. Examples include:
Low Back Pain
Gluteal / Buttock Pain
Sciatica Pain & Symptoms
Hip Pain
Hip Dysfunction
Upper Back Pain
Neck Pain & Stiffness
Headaches
Frozen Shoulder
Rotator Cuff Sprain/Strain
Scapulahumeral Syndrome
Head-Forward-Rounded Shoulder Posture
Upper & Lower Crossed Postural Distortions
Stress & Emotion-Induced Muscle Tension Throughout The Body
Containing over 11 hours of expert instruction, this course provides the foundation of a personally-rewarding clinical practice for just $299.99 (349.99 for DVD Set). Expand your clinical toolbox today!
Included in the Essentials Course:
Trigger Point Therapy for Hip Pain Video + PDF Guide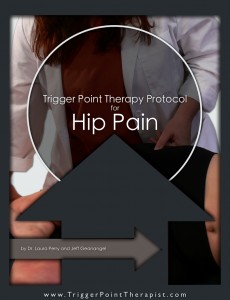 We initially used a variation of the Low Back Pain & Sciatica Protocol to address hip pain complaints in our practice, with mixed results. When we began to teach our system of Trigger Point Therapy, we designed a specific protocol for dealing with this stubborn condition. Upon employing this new protocol in our private practice we began to see marked improvement in our patients with this pain complaint, which left all of us questioning "why didn't we do this earlier?" More Information
 Trigger Point Therapy for Low Back Pain & Sciatica Video + PDF Guide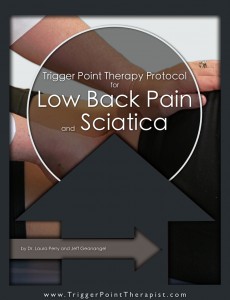 More than a decade of clinical research and experience went into developing this most effective trigger point therapy treatment protocol for the various types low back pain disorders. Mastering this comprehensive routine is the foundation of a successful trigger point therapy practice.  More Information
 Trigger Point Therapy for Shoulder Pain Video + PDF Guide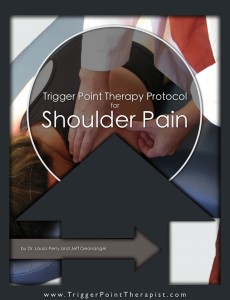 Because of the unique structural and functional characteristics of the shoulder joint, effectively treating shoulder pain complaints can be a rather complex task. One factor contributing to this complexity is the fact that functionally, the "shoulder joint" consists of the synchronous interplay of two joints; the gleno-humeral and the scapulo-thoracic. The development of this protocol took several years to complete, with numerous revisions and modifications along the way. We consider it an essential tool for any successful clinical or sports-centric practice. More Information
Trigger Point Therapy for Stress Relief & Postural Correction + PDF Guide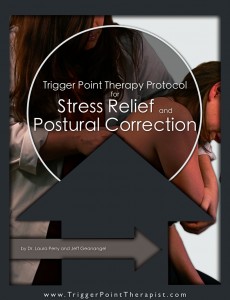 Perhaps the one service that the general public associates with the massage therapy and bodywork modalities is stress relief. Though a deep, kneading massage of tense muscles may feel wonderful to a client, it actually does very little to reduce their muscle tension. This protocol systematically eliminates the trigger points that create muscle tension in the postural muscles of the body, simultaneously improving a client's posture and providing physical and emotional stress relief.  More Information
Trigger Point Therapy for Neck, & Headache Pain Video + PDF Guide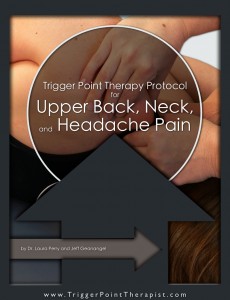 This protocol is the "bread and butter" of a clinical practice. We are continually amazed at not only how effective this protocol is at addressing these complaints, but also by the startling transformation of a client's demeanor that results from its application. By far the most frequently utilized protocol in our practice, this protocol has the remarkable ability to empower even the most depressed and frustrated clients to leave the office with a smile on their face. This can generate great word-of-mouth advertising for your practice, and put a smile on your face as well. More Information
Buy this Course in either Video Download or DVD format.
Option 1: Purchase the Essentials Video Download course and get started today!
Price: $299.99  40% Off Spring Sale now just $179.99 (discount applied automatically during checkout. Valid through May, 2018)
Option 2 : Purchase the Essentials DVD course.
Price: $349.99 + Shipping & Handling