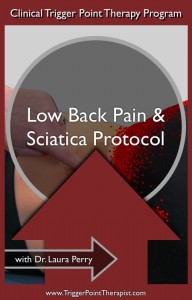 Product: The Low Back Pain & Sciatica Protocol Video Download
SKU: lowbac-ddl01
Regular Price: $149.99
Special Introductory Price: $99.99 (33% OFF)
Note: This video is also available on DVD: Trigger Point Therapy for Low Back Pain & Sciatica DVD
Trigger Point Therapy DVD/Video: Low Back Pain & Sciatica
Description: This was the first protocol we designed and implemented in our private practice over a decade ago. This comprehensive protocol has proven to be the foundation of a successful practice, providing an effective solution to a variety of low back pain complaints for hundreds of patients over the years.
Pain Complaints Addressed With This Protocol:
Low Back Pain

: Typically described as pain in the belt-line, lumbar spine, and Sacro-Iliac joint regions, this pain complaint is nearly always the result of trigger point activity in multiple muscle groups. Effective treatment requires a good clinical understanding of how trigger points interact with one another in this region, as well as a proper identification of the primary muscle overload.
Gluteal / Buttock Pain: Trigger points that refer pain to the gluteal region include those in the Gluteus Maximus, Gluteus Medius, Gluteus Minimus, and three other muscle groups. Gluteal pain complaints can be stubborn conditions if the therapist fails to employ a comprehensive approach to their treatment.

Sciatica

:

The term sciatica refers to a group of symptoms that involve pain and paresthesia that radiates into the buttock region and down the leg. Typically sciatica symptoms are the result of nerve compression secondary to a disc herniation in the lumbar spine, but trigger points in the Gluteus Minimus and Piriformis muscle are also frequent sources of this type of pain. Many cases of sciatica that are not effectively addressed by surgery respond well to this protocol.
Video Duration: 1 hour, 51 minutes, 41 seconds
Video Format: Quicktime and iTunes (.m4v): This video will appear in the Podcast Directory within iTunes, and can be viewed on a computer, iPhone, iPod Touch, iPad, or Apple TV. (See the Purchase Video Downloads page for more information on this format's compatibility and flexibility features)
Video Chapters:
Protocol Overview

Composite Pain Presentation

: A graphical overview of all the trigger points that refer pain to the low back region and contribute to Sciatica symptoms.
Protocol Design & Application: A breakdown of all the muscle groups and trigger points addressed in this protocol, with an explanation as to why they are included,  the optimal sequence for the protocol execution based on trigger point interactivity, and specific information on the clinical application of the protocol.
The Muscles & Trigger Points Involved: A detailed description of the

9

muscle groups and

20+

trigger points addressed in this protocol, including: basic anatomical & biomechanical analysis of each muscle group, symptoms associated with each muscle's trigger points, trigger point referred pain patterns, trigger point activating and perpetuation factors, trigger point interactivity,  and differential diagnosis.
The Complete Protocol, Step-by-Step: Detailed instruction on release procedures for all the trigger points addressed in this protocol, delivered in an easy step-by-step manner.
PDF Guide: This protocol includes a 54 page PDF companion reference to the video.
Related Video Downloads:
Related Post Archives: