Trigger Point Therapy Protocol for Low Back Pain & Sciatica Video / DVD + 172-Page PDF Book
Description: This was the first protocol we designed and implemented in our private practice over a decade ago. This comprehensive protocol has proven to be the foundation of a successful practice, providing an effective solution to a variety of low back pain complaints for hundreds of patients over the years.
Pain Complaints Addressed With This Protocol:
Low Back Pain

: Typically described as pain in the belt-line, lumbar spine, and Sacro-Iliac joint regions, this pain complaint is nearly always the result of trigger point activity in multiple muscle groups. Effective treatment requires a good clinical understanding of how trigger points interact with one another in this region, as well as a proper identification of the primary muscle overload.
Gluteal / Buttock Pain: Trigger points that refer pain to the gluteal region include those in the Gluteus Maximus, Gluteus Medius, Gluteus Minimus, and three other muscle groups. Gluteal pain complaints can be stubborn conditions if the therapist fails to employ a comprehensive approach to their treatment.

Sciatica

:

The term sciatica refers to a group of symptoms that involve pain and paresthesia that radiates into the buttock region and down the leg. Typically sciatica symptoms are the result of nerve compression secondary to a disc herniation in the lumbar spine, but trigger points in the Gluteus Minimus and Piriformis muscle are also frequent sources of this type of pain. Many cases of sciatica that are not effectively addressed by surgery respond well to this protocol.
Video Duration: 1 hour, 51 minutes, 41 seconds
PDF Book: This purchase also includes a 172 page PDF book. Included in this book is the following:
A link to this protocol video on our private YouTube channel, including full and short versions. Perfect for those who don't want to deal with downloading a video.
An interactive diagram for viewing the trigger points in this protocol and their pain patterns.
An interactive diagram of step-by-step instructions (with images) for locating and releasing the trigger point included in this protocol.
A chapter for each muscle group covered in this protocol. Including anatomical and biomechanical details for each muscle group, locations, symptoms, clinical findings, and related disorders for all the trigger points in each muscle group.
Details on proper protocol design and execution, as well as a clinical pointers from Dr. Perry.
Option 1: Buy Trigger Point Therapy Protocol for Low Back Pain & Sciatica Video Download + PDF Guide for
$89.99
Video Download Formats: Upon purchase of this download you will receive an email containing download links for this video in three different formats:
AVI format: Choose this format for watching this video on a PC computer.
MP4 format: Choose this format for watching the video on an Android or Windows device (phone or tablet).
M4V format: Choose this format for watching on a Mac computer. This format has been optimized for watching in iTunes, but Quicktime Player can also be used. You can use iTunes to sync this video to your iPhone, iPad, or iPod Touch, but you cannot directly download this format (or any other format) to your device. Apple does not allow videos outside of their iTunes Store to be directly downloaded and opened on their iPhone, iPad, or iPod Touch. Please use a third-party app such as GoodReader (available for purchase here) to open, unzip (unarchive), and store the video directly on your device. After downloading the video in Safari, click "Open In…" and choose GoodReader. You can also use GoodReader to open and unzip any PDF file that may be included with your purchase.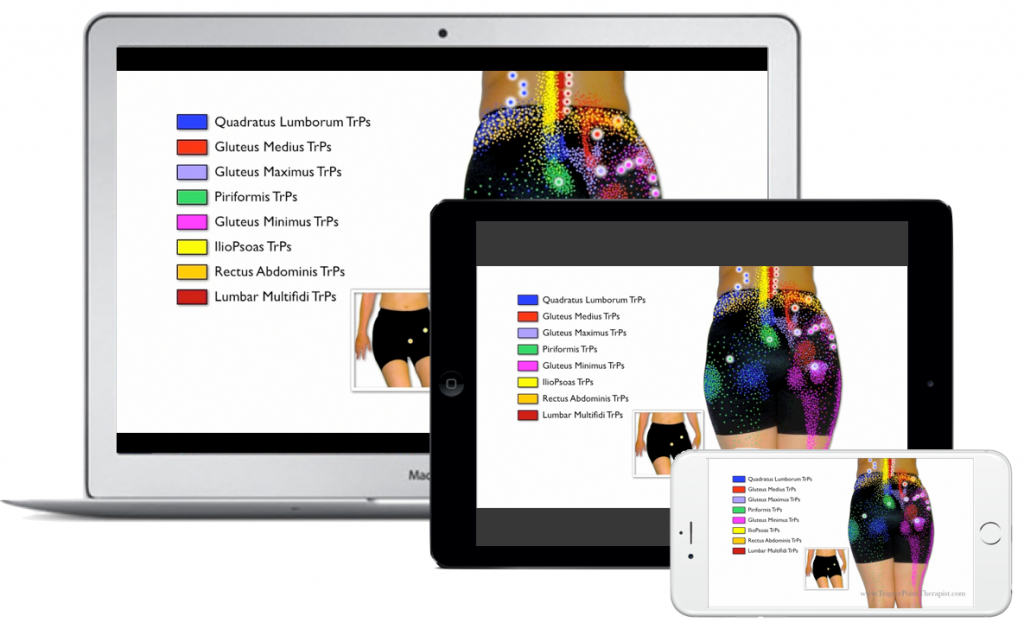 Click the "Add to Cart" button below to purchase the video download of this title.
Option 2:
Buy Trigger Point Therapy Protocol for Low Back Pain & Sciatica DVD + PDF Guide for
$99.99 + S&H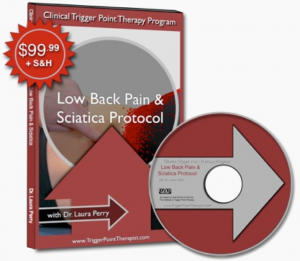 Click the "Add to Cart" button below to purchase the DVD of this title.
NTSC format on DVD-R media
2-3 Day Priority Mail shipping to anywhere in the U.S. is $11
6-10 Day Priority Mail shipping to international destinations is $20
We will email you the download link for the PDF Guide shortly after your purchase.
Related Products:
Related Post Archives: