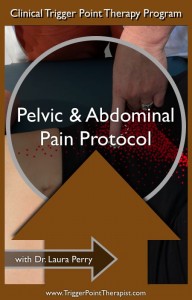 Product: The Pelvic & Abdominal Pain Protocol Video Download
SKU: pelabd-ddl01
Regular Price: $99.99
Special Introductory Price: $69.99 (30% OFF)
Note: This video is also available on DVD: Trigger Point Therapy For Pelvic & Abdominal Pain DVD
Trigger Point Therapy DVD/Video: Pelvic & Abdominal Pain
Description: We originally developed this protocol to see if we could help a friend who had been recently diagnosed with endometriosis and was experiencing severe bouts of pelvic pain. To our amazement, the protocol worked wonderfully to relieve her pain and mitigate the associated symptoms. Over the years, we expanded the protocol to address abdominal pain, vaginal & testicular pain, and gastrointestinal complaints with good success.
Pain Complaints Addressed With This Protocol:
Abdominal Pain: Trigger points in the Abdominal Obliques, Rectus Abdominius, and Lumbar Multifidi muscles are frequent sources of abdominal pain.
Pelvic Pain: Trigger points in the Adductor Magnus and  Abdominal Oblique muscles refer pain to the pelvic region.
Pre-Menstrual Syndrome (PMS): The cramping and pain associated with PMS is frequently mediated by Hip Adductor trigger points.
Dysmenorrhea: A set of trigger points within the Rectus Abdominis muscle can greatly intensify this condition.
Appendicitis: Referred pain from a trigger point in the Rectus Abdominis muscle can mimic the tenderness and pain associated with this condition.
Gastric Dysfunction: Gastrointestinal symptoms such as belching, bloating, indigestion, heartburn,  and nausea & vomiting can be caused by trigger point activity in the abdominal musculature.
Genitalia Pain: Trigger points in the Abdominal Oblique and Adductor Magnus muscles can be a source of vaginal and testicular pain.
Video Duration: 1 hour, 16 minutes, 52 seconds
Video Format: Quicktime and iTunes (.m4v): This video will appear in the Podcast Directory within iTunes, and can be viewed on a computer, iPhone, iPod Touch, iPad, or Apple TV. (See the Purchase Video Downloads page for more information on this format's compatibility and flexibility features)
Video Chapters:
Protocol Overview

Composite Pain Presentation

:

A graphical overview of all the trigger points that refer pain to the abdominal and pelvic regions.

Protocol Design & Application:

A breakdown of all the muscle groups and trigger points addressed in this protocol, with an explanation as to why they are included,  the optimal sequence for the protocol execution based on trigger point interactivity, and specific information on the clinical application of the protocol.

The Muscles & Trigger Points Involved:

A detailed description of the 

6

muscle groups and 

20+

trigger points addressed in this protocol, including: basic anatomical & biomechanical analysis of each muscle group, symptoms associated with each muscle's trigger points, trigger point referred pain patterns, trigger point activating and perpetuation factors, trigger point interactivity,  and differential diagnosis.

The Complete Protocol, Step-by-Step:

Detailed instruction on release procedures for all the trigger points addressed in this protocol, delivered in an easy step-by-step manner.
PDF Guide: This protocol includes a 39 page PDF companion reference to the video.
Related Video Downloads:
Related Post Archives: